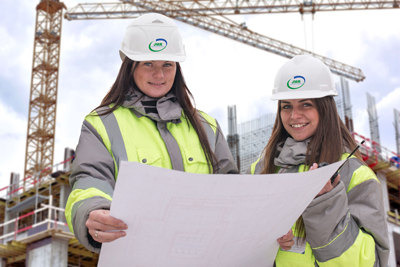 Trades & Labour - Recruitment
Building, Civils, Construction Trades and Labour Supply
JMR Recruitment Services Ltd is a new company in name only when it comes to supplying temporary construction Trades and Labour to customers both locally in Essex, London, the Home Counties and throughout the UK.
Managing Director John Ryan has been the no1 call for Temporary Trades & Labour for 100's of Businesses over the last 20 years.
John has formed good long term business relationships over the years that have stood the test of time. We believe that service is key and that`s why our mission statement is RELIABLE EFFICIENT EFFECTIVE RECRUITMENT WITH SERVICE SECOND TO NONE.
JMR has a database of workers exceeding 30,000 operatives. This means we are able to call on workers throughout the UK to fill customer bookings at a moments notice.
We offer a flexible service, combined with a commitment to meet the demands of today's construction industry. We cover Permanent, Contract and Temporary roles at all levels.
---
We supply the following types of Labourers:
- Semi-skilled & Unskilled Labour
- Attendance & Welfare Labour
- Builders Cleaner
- General Labourer
- Experienced Labourer
- Trade Labourers (Hoddy & Mates)
---
Temporary Construction Building Trades:
- Multi- Skilled Operatives
- Bricklayer
- Stonemason
- Carpenter
- Bench Joiner
- Kitchen Fitter
- Roofing Carpenter
- Roof Tiler
- Painter
- Decorator
- Wallpaper
- Plasterer
- Fibrous Plasterer
- Dry liner
- Tape and Jointer
- Ceiling Fixer
- Metal stud Partitioner
- Ceramic Tiler
- Stone/Marble Tiler
- Carpet fitter
- Floor Layer
- Mastic Man
- Tacker
---
The types of Site Support Workers we supply:
- Gatemen
- Site Security
- Traffic Marshall
- Slinger Signaller and Banksmen
- Netting Installers
- Scaffolders
- Rope Men
- Mechanics
- Hoarding Installers
- Enabling Trades
- Attendance and Welfare Labour
- Builders Cleaners
- Appointed Persons
- Crane Supervisor
---
We supply the following Civil Engineering Workers:
- Pipe Layers
- Concrete Finishers
- Pavers & Slab Layers
- Steel Fixers
- Form Work Carpenters
- Piling Operatives
- Tunnel Workers
- Utility Workers
- Cable Installers
- Clean Water Workers
- General Operatives to top of the list
- Concrete Labourers
- Concrete Pump Operatives
- Multi-skilled operatives
- Gangers
- Chargehands
- Foremen
---
We supply the following Temporary Plant & Machine Operators:
- Machines all sizes
- 360 Excavator Operators
- 180 Plant Operators
- Dumper
- Roller Operators
- Articulated Dump Truck
- Loading Shovel & Dozer Operators
- Skid Steer
- Demolition Plant Operators
- All categories of Forklift Operators
- Powered Access Plant (MEWP) Operators
- Scissor Lift
- Cherry Pickers
- Road Sweepers
- HGV Drivers
- Hoist Operators
- Crane Drivers
- Rubber Duck Drivers
---
All trades and labour supplied are CSCS accredited as required and have the correct trade qualification for the work they carry out . The operatives attend work with their own PPE and have the skill set to carry out the tasks they are booked out to complete. The operatives supplied can clearly speak and understand the English language. The temporary workers will have site experience and will be managed by supervisors as part of the clients work force.
JMR Recruitment Services are a specialist Construction Recruitment company with over 20 years experience in the Civil, Commercial, Retail, Residential, Fit-out, Refurb, Public and Industrial sectors around the UK.